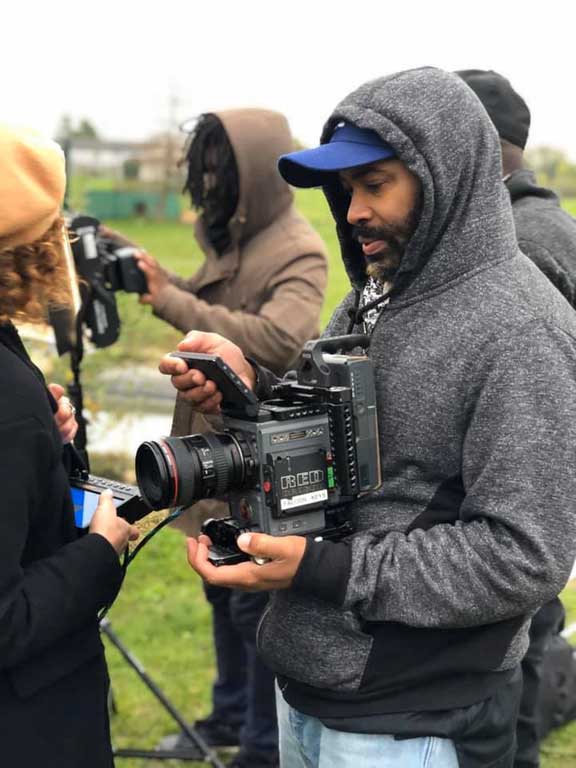 French director borned in Paris 12th district began his first short movie in 2003 « A world enough » and his first feature in 2011. Title « Unnamed Feeling ». His second feature « Catherine, or atoms of a clueless soul » was at theater in France on December 2015.
Currently his short movie « Love of a Sister » is on Amazon Prime Video UK and US.
Alix
 VERONEZE brings his cinematographic vision on Music video, Documentary and Commercial.
2019 :
Court métrage « LA ROUE TOURNE »
Production: Métrages Productions
Avec Dimitri BOETTO, Mata GABIN et Firmine RICHARD
Genre : Conte
Durée : 15 min
Sélections en Festival :
EN COURS
2015/16 :
Long métrage « CATHERINE OU LES ATOMES D'UNE AME PAUMEE »
Production: Métrages Productions
Avec Eriq EBOUANEY, Chantal BAROUIN et Quentin SANTARELLI
Durée : 1h16 min. au Cinéma Saint-André des Arts le 09 décembre 2015 (1 mois)
Sélections en Festival : Second Asia International (Wenzhou) Youth Short-Film Exhibition / IndieWise FREE Virtual Festival / Ozark Shorts
Court métrage « LA PETITE FILLE ET LE CHIEN »
Production: Métrages Productions
Genre : Conte
Durée : 9 min
Sélections en Festival : Second Asia International (Wenzhou) Youth Short-Film Exhibition / IndieWise FREE Virtual Festival / Super 9 Mobile Film Fest – ONLY MOBILE FILMS- Read first / THE KIDS FESTIVAL / WideScreen Film & Music Video Festival / Ozark Shorts / Catalyst Communities Film Festival / Exposition micro-vidéo décennie micro-film chinois
2014 :
Producteur, Auteur, Réalisateur et Monteur.
Court métrage « LA PASSION DE MATTHIEU ».
Production: Métrages Productions
Genre : Drame psychologique
Durée : 14 minutes
Format : Full HD
Sélections en Festival : Second Asia International (Wenzhou) Youth Short-Film Exhibition / IndieWise FREE Virtual Festival / GRAND OFF – WORLD INDEPENDENT SHORT FILM AWARDS
2011/13 :
Long métrage « SENTIMENT INCONNU ». Durée : 1h22 minutes
Production: Métrages Productions
Genre : Drame psychologique
Durée : 1h21min
FEMI, Festival Régional et International du Cinéma de Guadeloupe / Grand IndieWise Convention
Court métrage intitulé : « L'AMOUR D'UNE SŒUR » Durée : 25 minutes
Production: Métrages Productions
Genre : Drame psychologique
Durée : 25 minutes.
Diffusé sur TV5 MONDE jusqu'au 6 décembre 2017
L'Agence du court métrage depuis novembre 2017
Actuellement diffusé sur AMAZON US et UK
Sélections en Festival : Exposition micro-vidéo décennie micro-film chinois / Grand IndieWise Convention / Ozark Shorts Los Angeles, California / IMA International Film Festival (India)
2009 :
Documentaire « BONGA, REFUGE DEVOILE PAR LE ROI DU SEMBA »
Durée : 26 minutes
Sélections en Festival : Festival du film international de Panafrica 2009
Court métrage: « LA TERRE TOURNE QUAND MEME ».
Genre : Drame psychologique
Durée : 4 minutes
Sélections en Festival : Festival du film international de Panafrica 2009